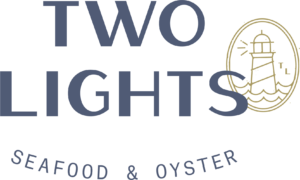 Two Lights Seafood & Oyster is inspired by owner Keene and Megan Addington's summer trips to the coast of Maine. The name is derived from Maine's very own Two Lights State Park, a frequented destination during Keene and Megan's July vacations. In bringing their vision of a New England getaway to Old Town, they wanted to convey the attitude of "relax" and "reset" they embrace each year vacationing with family and friends. The colors are soft, the drinks and dishes are shareable, and the service is, as one guest expressed, "Like I've known them my whole life!"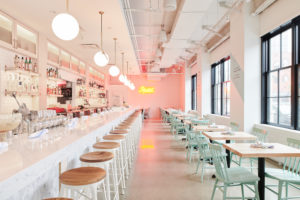 Speaking about bringing New England to Chicago, the General Manager and Beverage Director of Two Lights, Chris Gatchell, is a Maine transplant, and was personally selected to open Two Lights by Keene and Megan during one of their annual trips. Chris has spent most of his life in neighborhood restaurants in and around Portland, Maine, moving exclusively to hospitality and front-of-house roles in his college years. His programming background gives him a keen eye and creative touch when it comes to curating Two Lights' small list of wines and beers and of course coming up with our much-loved cocktails.
What people might not realize is that Two Lights is actually a return to Old Town for owners Keene and Megan, who opened one of their very first Flat Top Grill locations just one block west on North Avenue in the '90s. Longtime Old Town residents might remember stopping in for Mongolian stir-fry with friends and family and shaking hands with Keene himself! According to Keene and Megan, Old Town offers the perfect combination of a neighborhood feel with the arts and culture experience of Chicago. It's a very walkable neighborhood where visitors and regulars alike are welcomed with a smile and homey service.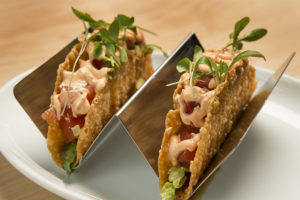 Looking for ideas on what to order? Highlights include small plates menu items like the Two Light's buttery Lobster Roll, Pow Bang Shrimp, Ahi Tuna Poke Tacos, and of course, their Grilled Spanish Octopus, which is a really fun one to photograph as the tentacle is presented whole alongside a colorful Greek salad with cucumber and feta.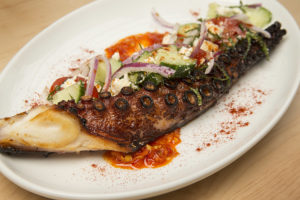 Diners might also enjoy the Bramble On, a drink inspired by the berry patches of Maine in summer. Another popular drink is a "tiki spin" on a Dark and Stormy, featuring crème de coconut.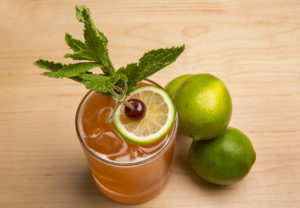 In addition, Two Lights just debuted their Sunday brunch at the end of February, and look forward to welcoming residents and visitors alike to a vacation-inspired brunch experience – mimosas and all. Come check out a taste of Maine in the middle of Old Town!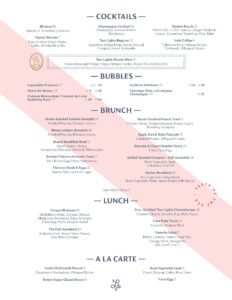 For more information or to make a reservation, please visit their website at twolightschicago.com.