Early in the afternoon on Wednesday, August 26th, the Chicago Fire Department was called to Old Town for what was described as an "extra-alarm fire" at 1610 N. Wells Street. CFD spokesman Larry Langford confirmed it began in the first-floor kitchen of Adobo Grill, climbed a vent and intensifying as it reached the upper floors and roof line.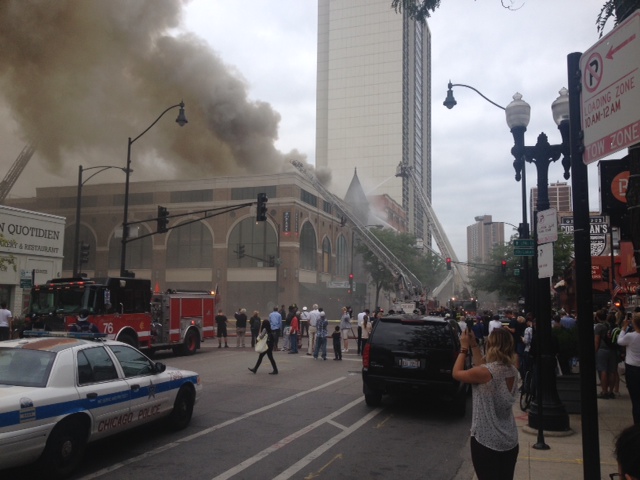 Evacuations were immediately ordered for the building and those adjacent, including the Piper's Alley complex, home to the world-renown The Second City improve theater and training center. Other affected businesses included Fleet Feet Sports, Starbucks, X-Sport Fitness and Chipotle.
Firefighters attacked the flames for more than three hours as dark, billowing smoke drifted southwesterly from the site. The structure's upper floors incurred severe damage. Four CFD personnel suffered minor injuries and one civilian was treated for smoke inhalation.
Alderman Brian Hopkins, who in May took office in the new 2nd Ward wherein the fire occurred, expressed his appreciation of CFD's efforts to squelch the blaze and preserve neighboring structures and businesses.
"We commend the Chicago Fire Department for their outstanding job in managing this fire, saving lives and property with their courageous response," Hopkins said.
"We are relieved to learn that the reported injuries are minor, and those affected remain in our thoughts and prayers for a quick recovery. District Chief Tim Sampey and his team worked tirelessly to contain the fire within 1610 N. Wells, preventing it from spreading to Second City's theatre at 1616 N. Wells, which suffered only water and smoke damage.
Alderman Hopkins went on to address his hopes to preserve the 19th century structure from which the fire emanated.
"Although the damage was much more severe in the historic 19th Century Queen Anne style building at 1610, we are hopeful it can be saved, and we will work with the building's ownership to provide full cooperation and assistance from city departments."
The northwest corner of North Avenue and Wells Street has a unique configuration that made fighting the fire more difficult, per CFD reports. When built in the late-1970s, the Piper's Alley complex was constructed around existing structures at 1610-12 N. Wells Street, resulting in limited access points during yesterday's fire. Firefighters instead addressed the blaze via the building's third floor windows and atop adjacent structures.
Theater space in The Second City offices incurred minimal damage, though their offices were lost to the blaze. Its staff is assessing the situation and will be announcing plans for its performances and trainings shortly. Over the past five months, workers have been constructing additional theater and training spaces in the upper floors of Piper's Alley.
UPDATED AS FINAL 1:45pm CST 27-Aug 2015