The Wells Street Art Festival is back for its 42nd year! That's right — since the mid-1970s, our little piece of Chicago has displayed the works of thousands and thousands of talented painters, sculptors, photographers, and crafters. As one of the City's largest and most acclaimed fine arts experiences, the Wells Street Art Festival has become a must-do summer event for visitors to our fair City and its citizens alike!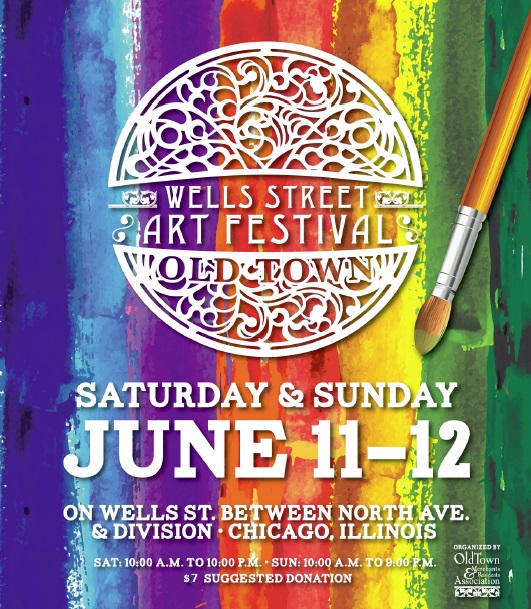 Come stroll the length of Wells Street, from North Avenue to Division, where the works of more than 220 local, regional and inter/national artists will be displayed. Several of Old Town's award-winning restaurants will be serving street food and beverages throughout the weekend, and our O'Briens Parking Lot main stage will have live entertainment from start to finish. Best Fest pre-sale packages including two gate donations, four food tickets ($5 value each), two beverage tickets ($5 value each), and two commemorative pilsner-style cups are available online. Use code OTMRA for a $14 discount.
The recommended gate donation for this event is $7/day, with all funds being used to support the growth and improvement of the Old Town area, and its many worthy organizations and causes. Over the past 20 years, $350,000 in gate donations have been re-issued to directly support 60+ local nonprofits. Over its 42 years, more than $2.5 million has been raised to support beautification efforts, safety initiatives, sustainability, community development/involvement programs, business growth and improved infrastructure in the Old Town neighborhood.
– – – – –
Main Stage Music
– – – – –
Children's Art and Play Area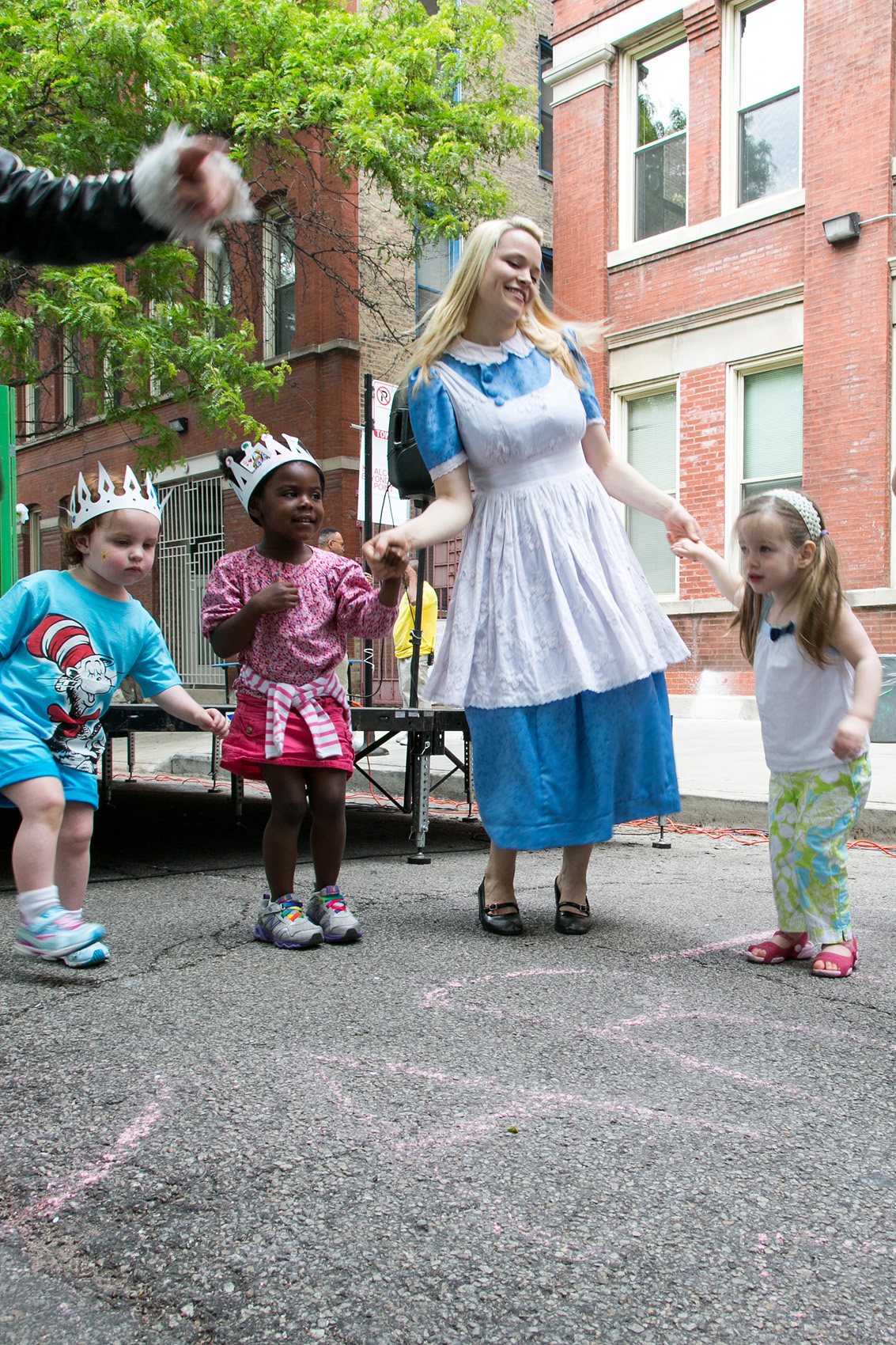 As we strive to provide a family-friendly environment, the last few years have included a dedicated children's area where families can get a reprieve from the hustle and bustle of the festival for a little while. On the tree-lined Evergreen Street, kids are encouraged to let their creativity fly with various art stations, including face-painting, tie-dye t-shirts, button-making and other small crafts/activities. The Children's Area will also include two inflatable jump houses, music and more. Supervisory staff from Art On Sedgwick will be on hand the whole time to lead the various art activities.
Art on Sedgwick is a community nonprofit dedicated to fostering creativity and connecting our community through the power of art. Through innovative art classes and collaborative events, AoS teaches creative reflection and expression, engage the diverse Old Town/Near North neighborhood, and help individuals in the community to connect with the best part of themselves. Their main office and work space is located at 1429 N. Sedgwick. Stop in!
– – – – –
NEW! Student Artists' Showcase
For the first time ever, the Wells Street Art Festival is inviting local high school and college students (including junior colleges) to submit art entries for the festival's new "Student Artist Showcase." Up to 10 selected applicants will display their artwork in a special designated area at the Wells Street Art Festival in Chicago's historic Old Town neighborhood. The Student Artist Showcase provides promising student artists with an exceptional opportunity to exhibit their work in a professional venue, interact with established artists and experience the jury process.
– – – – –
How To Get Here
Ride the Brown Line train to Sedgwick and head east on North Avenue to Wells Street. Ride the Red Line train to Clark/Division and head west on Division Street to Wells Street. Take any of the 22/36/156/72/73/9 buses to North Avenue and walk to Wells Street. For other routes, directions and connections, call 312.836.7000 or visit www.transitchicago.com.
– – – – –
Beneficiary – Old Town Merchants and Residents Association
Your gate donation benefits the programs and initiatives provided by the Old Town Merchants & Residents Association. Since its establishment in 1971, the Old Town Merchants& Residents Association has served as the voice of the Old Town community, advocating city services for businesses and residents including: community policing, sidewalk cleaning, lighting, beautification and planning.
A majority of the Association's membership is made up of business/property owners who also live in Old Town. Members are kept informed of Association projects and community issues through regular meetings, newsletters and networking events. Members are automatically included in the Association's neighborhood directory and website. Members can opt to participate in various neighborhood-wide advertising/marketing efforts at a discount rate and the popular street banner program. To learn more about membership, please contact the Old Town Merchants & Residents Association at 312.951.6106.