It's time once again for the Wells Street Art Festival in Old Town!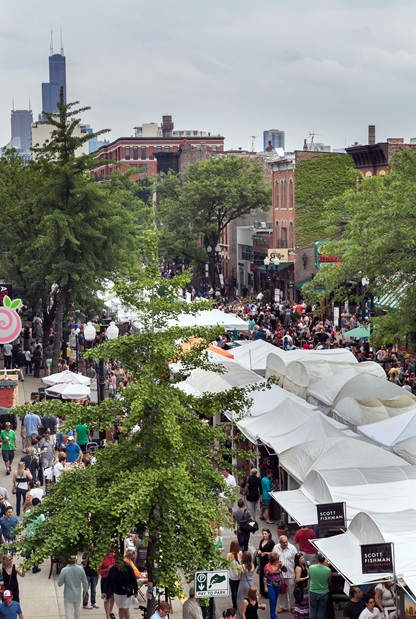 Come celebrate our 41st annual neighborhood celebration of fine art on Old Town's historic Wells Street, between North Avenue and Division Street. The suggestion donation price is $10, with all proceeds going toward neighborhood improvement programs, by host organization Old Town Merchants & Residents Association and in support of dozens of local non-profits, service providers and community groups.
This year, guests will be treated to the works of more than 200 local, regional and inter/national artists specializing in a variety of  mediums and methods, including traditional paint, pencil and watercolor, woodworking, jewelry. sculpture, metalwork, glasswork and digital media, among others.
Purchase Your WSAF Pre-Sale Specials Today
Continuing off the success of last year's festival pre-sale special, we have built a special discount package for those who want to lock in their plans to attend today! Pre-sale packages are available for purchase through EventBrite, and include two admissions, four food tickets, two beverage tickets and two commemorative 16oz cups. Use code 'OTMRA' at purchase to receive $20 off the price (pre-tax)!
2015 WSAF Music Line-Up Announced
We will once again have a full line-up of entertaining performances at our main stage area (located in the rear parking lot of O'Briens Restaurant, 1528 N. Wells). The full schedule of performers is:
A New Website for a Great Festival
This year, we're proud to announce the launch of a brand new website built specifically for the Wells Street Art Festival. For additional details and scenes from the festival (including an ever-expanding gallery of festival images), please visit www.wellsstreetartfest.us. Leading up to the event, we'll be adding additional details, including an artist location guide and general festival map. During the event, you can visit this site on its easy-to-use mobile version, or share your event experiences on the official Wells Street Art Fest Twitter Page.